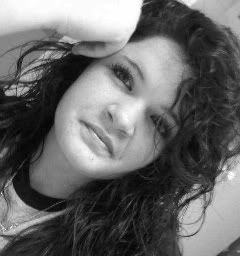 When you do theater, you are opening yourself up for everyone to see. Acting makes you vulnerable. Vulnerable to the audience, but most of all, vulnerable to your cast mates. A cast is a family. It may not start out that way...but as you continue to rehearse and delve into your characters, bonds are made. I've met a lot of new people through theater, and gotten to know those I knew a little better. Jordyn Cahill became part of my family last year when the MAC put on a witty little stage play called
Play On!
. I didn't know her at first. I'd seen her at school, but I didn't have the slightest idea about this girl. I soon found out what a beautiful girl she was. She always had a mischievous smile on her face that could easily brighten a room.And I know she wasn't always happy...I could see it in her eyes. Yet, she smiled. I remember how funny it was to watch this sweet soul try to bring out her inner Angry Butch as the manly set constructor, Louise.
"Jordyn, you have to be angrier. You're throwing a fit, here. Stomp off stage like you mean it!" our director would command. She would fashion her face into a frown, begin her line, and dissolve into fits of giggles. Then extend her arms behind her and stomp away like a toddler. We all lost it. Every. Single. Time. She was way too nice to yell at us and stomp away. But she got it...because she was talented.
I spent a lot of my time back stage. My character made late entrances, and Jordyn's character had a lot of off-stage lines, so we hung out together in the wings. Tina would often join us. at LEAST once a rehearsal, she would sneak behind us and groan "Get. In. My. Bell-lay." Oh goodness...that was hilarious.
Play On!
was a difficult show. It was a play within a play and we got confused easily. We had issues with people not knowing their lines. It didn't get much better come opening night...The whole show was pretty much improvised every single night. Six shows worth of crazy improv. But it worked. Families can read each other's minds, you know. That turned out to be one of my favorite shows thus far. No...it was my favorite.
Jordyn never got to come to the cast party, or the cast girls' sleepover. She was usually babysitting... I hate that she was never able to join us. Something was always missing... A sister in our family.
Jordyn, you meant a lot to me. I don't know if you knew it...but you did. You always made me laugh and I loved watching you on stage. You got really good at being "angry". I hate that I didn't see you very often after the show ended. The other day, Tina and I were talking about you and your goofy antics and how we missed you. Then, this morning, I heard the news of your death... It felt like someone punched me in the gut. That realization still hadn't hit me. And it didn't until the car ride home. I started crying and made a pit stop to see my dad at his office in the school. It still seems hard to believe that someone so wonderful...so young...is gone. Jordyn, I loved you. I loved your smile and your humor. I won't forget you. And I never answered then, so I will now.. Yes, Jordyn. I will get in your belly. ;) Sleep well, sweetie. I'll talk to you later.
I have learned through the many local losses recently that one should never take anything for granted. Tell people you love them. Hug them frequently. Stop complaining about the small things and go ENJOY life. It doesn't last forever...don't waste it.
Please keep the Cahill family and the friends of Jordyn in your thoughts and prayers.