This has been the best Christmas since I stopped believing in Santa Claus (as in, believing he's a man who actually comes into my house and leaves me things... I still believe in him, but differently. I'll get to that later). Last year, of course, was horrid seeing as my father almost died and most days were spent in a hospital waiting room. But THIS year? This year was pure MAGIC. New traditions were created, friends celebrated, and families gathered. We kicked the season off by decorating on the day after Thanksgiving, but things got really jolly at Thanksmas (see...2 posts below). Annual shopping trip with Tina and Nick was a blast, as was the day with Tina and Alicia. Garrett, Nick, Tina, and I drove to...out in the middle of nowhere to stumble upon a merry Christmas village on Simmons Rd (seriously...so cool.) as well as two houses with a music/lights show. The night was accompanied by hot cocoa.
Chances are, I will still be living at home come this time next year. But...it'll be different somehow. I'm still a kid this year, really. Next year...I'm a grown up. I don't think I'm going to lose all of the Christmas magic just because I will a college student, but it'll be different. This year, I definitely felt like a little kid again. I even got excited when I tracked Santa and SWORE there were reindeer prancing on my roof at 11:30 last night. (ok...so it was the bass of the obnoxious neighbor's car stereo mixed with the normal creaking and settling of the house...and my obnoxious dog howling back at the obnoxious neighbor)No. It was totally reindeer. Pinky promise.
I spent Christmas Eve with my dad's family, which is always fun. Always. We're such a strange group of people... Don't believe me? I think these will prove my point...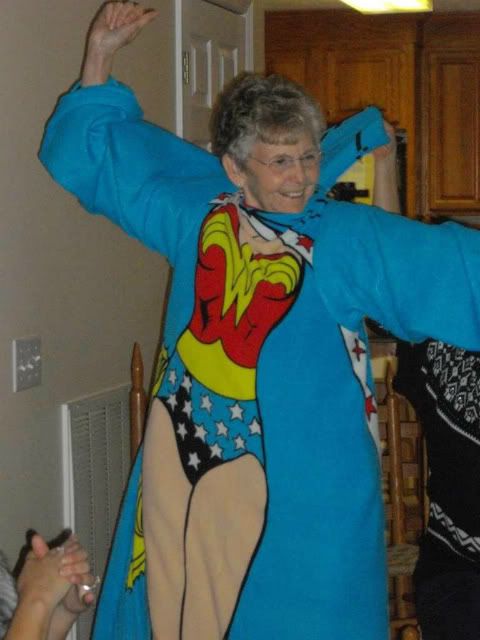 I came home, watched a little TV, stuffed my parents' stockings, and went to bed early. I laid in bed thinking about how I could never sleep when I was little. How I would turn my TV on and watch the news as it reported and Santa's whereabouts then change it to watch the Powerpuff Girls: 'Twas the Fight Before Christmas or A Johnny Bravo Christmas. How, the next morning I would run into my parents' room and shake them awake at 4 or 5 in the morning to just be sent back to bed until 7. I watched the clock and as soon as it struck 7, I was waking them again. Then...Dad would take as long as possible to drink coffee, brush his teeth, wash his face, and even brush his nonexistant hair. It drove me batty. But finally I would behold the wonders Santa left me and spend the rest of the morning in a flurry of holiday wrapping paper. Of course, when it was over, I spent the rest of the day crying because it was over. This year would be a bit different. It was Sunday, so I had church. Instead of waking up at the brake of dawn to open gifts, we would do it after church. I thought "No problem. I'm almost an adult...I can wait." Well... I did wait...but I was bursting at the seams! I was so excited! My parents went above and beyond...seriously. I feel so bad about everything they got me. I didn't need anything! They got me a mass amount of knitting needles and accessories such as wrist supporters, needle organizers, and more. They also got me a bunch of movies (The Help, Peanuts holiday collection, The Lion King, The Sound of Music, first 2 seasons of How I Met Your Mother),a Sailor Moon T-shirt (Yeah! I know! ha!), and...the special gift from my Daddy...a jewlry set of pearls. A necklace, ear rings, and a ring. Sterling silver and pearls. Something I have wanted for so long and could never find. He found it. Oh I love it. We got into our jammies and watched movies all eveing until church. Wonderful.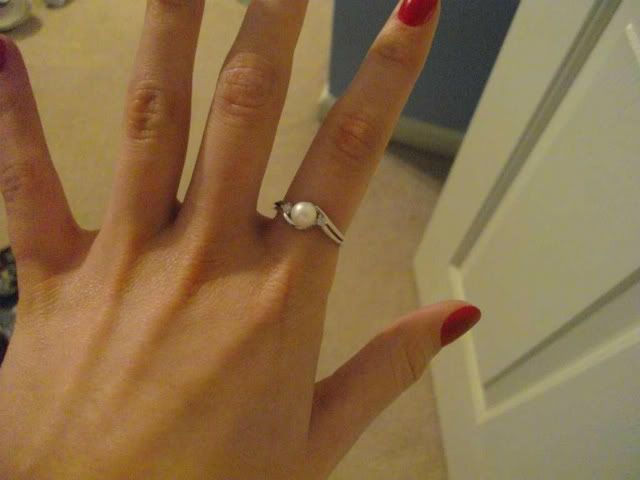 Best. Christmas. Ever. I feel so incredibly blessed (and spoiled, honestly).
I hope everyone had a fantastic Christmas